Teachers
I never teach my pupils, I only attempt to provide the conditions in which they can learn
Steve Munn
I went to Costa Rica in 2012 to complete my 200 hr yoga teacher training with Frog Lotus and on my return a Pregnancy yoga course in Fulham, London. Moving on into my 3 year Qi Gong teacher training with Eva and Karel Koskuba teaching both Yoga And Qi Gong at our studio in Henley and on retreats in Spain giving me a foundation for my personal style to develop.
I took my Yin Yoga teacher training in 2014 and advanced Yin Yoga Teacher Training the year after with Norman Blaire in London. Yin Yoga has been the perfect catalyst, connecting Traditional Yoga and Qi Gong. After 3 years intensive training in Chen Style Tai Chi I'm looking forward another 3 years Tai Chi Teacher training in 2019. Also in 2019 I'm going back to the routes of Yoga postures and alignment with anatomy training with Gary Carter for an intensive years course.
Carlin and I have had the existing Henley Yoga Studio in Friday Street for over 4 years now and gives us and our students the perfect environment to teach, practice and grow. The Studio is a perfect platform to teach classes, run workshops and we are able to invite teachers from around the globe to join us.
Throughout the summer months, my Girlfriend Jo and I, currently run retreats in Spain and the U.K.  This offers students and ourselves a gateway to a deeper experience.
Steve Munn:
07770 945416
anaherayoga@yahoo.co.uk
Carlin Clarke
Hi, my name is Carlin Clarke; I'm a mother of three and a grandmother of five.
In 1981 I started training to become a yoga teacher. That opened a door for me to study and become a sports and psychology teacher, lecturing and teaching at schools and colleges, bringing yoga into all of my sports coaching.
In 1995 l studied to become a registered sports massage therapist, working with people to overcome injury, illness and improve posture alignment, which continues today. Ten years ago l started teaching yoga in health clubs and spas always working to improve my knowledge in connection with the mind and physical body. In 2005 I studied Monty Roberts the great Horse whisper, this time of study felt like a gift and strengthened my belief that I could bring this way of being (in the real moment of time) to my fellow humans. In 2007 l trained with Anthony Robbins a world leading life coach and public speaker, this changed my life and l was on my journey of a thousand miles finding the balance to life. On that journey I enrolled on the 200 hr. teacher training yoga course in 2011 with Vidya Heisel Frog lotus in Bali, then assisted on her 200 hr. course in Costa Rica and Spain in 2014.
Carlin Clarke:
07860 266240
carlinvclarke@gmail.com

Jo Hanks
Jo is the founder of Get On Your Mat, a yoga teacher & passionate wellness promotor also offering Kinesiology, diet & nutrition advice and remedial massage. Having trained as a Yoga teacher in India back in 2010, she returned to the UK to set up Get On Your Mat – Yoga with Jo! delivering Yoga classes staying true to the authentic origins of Yoga whilst appealing to the modern day practitioner.
Jo uses creative sequencing of poses to deliver a hatha style flow practice with a great playlist to enhance the experience alongside meditation and breath work – encompassing all three key components to a yoga practice. Yin and Restorative yoga are also offered as are variations within class for prenatal mama's and beginners offering an inclusive class at all times to anyone who wants to come.
Having previously worked in the travel industry, recruitment & event management, Jo is all too familiar with the stress and pressure that corporate life and being desk bound can put us under and the immense relief that a yoga practice can bring not just physically, but mentally and emotionally too.
Jo has a regular weekly teaching schedule in Berkshire & Oxfordshire which includes Yoga classes, working 121 with clients, corporate classes, holistic coaching sessions and also hosts UK & Overseas yoga and wellness retreats.
Jo Hanks:
07976 809561
getonyourmat@hotmail.co.uk

Karen Morris
I have been practicing Yoga for over 20 years and qualified as a Yoga teacher in 2014 specialising in Vinyasa Flow and Yin. I am also a Coach and Reiki Master using Yoga, Reiki, and Coaching practices within my teaching and believe that you are at your optimum when you are in balance.
I also work in the Corporate field so am very aware of the stresses and strains of gaining a work life balance. I spend most of my free time walking my spaniel Alfie, who is the love of my life.
Karen Morris:
07715 771478
at-one-life@hotmail.com
Ollie Tubb
My own experience has inspired me to coach meditation and mindfulness, and more recently Qigong. I was going through a difficult period of time about six years ago and stumbled upon a meditation class. This was how it started and I continued to show up for 6 or 7 sessions and I learned that it is possible to quieten and observe the mind. Well, this was quite a revelation to me and I have kept a regular meditation practice ever since.
One thing led to another and I find myself regularly attending Yoga classes at Triyoga in Soho and at The Henley Yoga Studio with Steve and Carlin. I continued with the yoga classes for a few years and then Steve mentioned his Qigong class  – one class and I was hooked! I loved Steve's classes and at the same time developed my own practice drawing influences from Peter Caughey who I bumped into in Bali and Paul Cavel of Energy Arts who I continue to train with and am currently studying the Dragon & Tiger sequence. I have just picked up again with Steve's classes and it's really interesting to bring all I have learned about Qigong, Neigong and Qi into this practice.
I have been teaching meditation for the past 3 years having studied with Traditional Yoga. I have been teaching Qigong for the past year, combining my skills into a class called 'Mind & Movement' in which I aim to quieten the mind with mindful movement of the body – we sit to meditate at the end and by this time the mind is still and calm as we rest the body alongside.
My classes are relaxed and fun but serious about helping you nurture a Qigong and meditation practice and develop peace of mind. Come and find out for yourself – Tuesdays at 6pm 🙂
Ollie Tubb:
07789 766826
design@ollietubb.com
Carly Brown
I started going to yoga classes as a teenager with my Mum. I discovered Ashtanga Yoga in 2002 after a chance conversation with teacher Cathy Haworth. I studied with Cathy for 5 years and was guided through the primary series and encouraged to develop a self-practice. I have maintained a regular yoga practice for over 15 years.
In 2016 I completed a 300 hour Ashtanga and Yin Yoga teacher training course in London with teachers Norman Blair and Melanie Cooper. I also trained with April Nunes-Tucker to teach Big Dog Little Dog Yoga (parent and child yoga for 4-8 year olds). In 2018 I co-founded The Great Little Yoga Company with a friend. Our mission is to offer high quality yoga classes to children of all ages in the local area, we teach in schools and other educational centres and we offer amazing children's yoga parties.
For me yoga is about transferring the work completed on the mat into daily life. With the hope of becoming softer, more thoughtful and less reactive.
My intention as a teacher is to gently guide and encourage, to support students to gradually build their own yoga practice. My ultimate hope is for independence to develop so that a self-practice can develop.
I also enjoy swimming, walking my dog Fred, and practicing cartwheels with my young daughter Rosa.
Carly Brown:
07973 423528
carlylouise81@hotmail.com
Russell Sutherland
After years of hairdressing in my early 20's I started to suffer with sciatica all down one side of my leg and after months of being in pain and feeling tense and burned out, I decided to try yoga. Something inside me told me that this is what my body needed and from that point yoga has been an important part of my life. For me the benefits were life changing and my sciatica soon disappeared.
In 2015 I completed my 200hr yoga teacher training with the Yoga Alliance in Costa Rica. I started teaching on my return. During this time I also discovered Iyengar and worked with senior teachers and fell in love with this method and the knowledge it brings. It took my yoga to another level and I loved it. After 3 years of studying Iyengar yoga I applied for the teacher training and qualified after assisting and studying for 2 years.
I truly believe in the benefits that yoga brings and also i feel its important to approach it with enjoyment. I want my students to leave feeling stronger, more relaxed, generally a better, healthier you.
Russell Sutherland:
07767 410907
russellyoga@gmail.com
Emma Brett
Emma comes from a background in classical and contemporary dance. Whilst training and working in London and Australia, Emma found yoga. Like many, she was struck by the transformative qualities of the practise, both physically and mentally. Since then Emma's enthusiasm and love for yoga has expanded. She has explored Jivamukti, Vinyasa krama, meditation and the earthiness of Tai Chi, all of which have influenced and inspired her practise.
Emma finally discovered Anusara Yoga, and and is now a certified Anusara Elements teacher, having studied at The Bridget Woods Kramer School of Yoga, at Triyoga London. Emma's classes will take you through a dynamic physical practise, and will be grounded in the Universal Principles of Alignment offered by Anusara Yoga. Emma believes yoga is for everyone. She emphasises a creative and challenging approach, intertwined with her knowledge of the body and movement.
Great thanks are extended to her teachers Carlin Clarke, Steve Munn and Bridget Woods Kramer who continue to support and enhance her practise and teaching.
Emma Brett:
07584 256517
Cards.e.brett@gmail.com
Felicity
Hi, my name is Felicity and I'm a qualified pre-natal and post-natal yoga teacher. I'm a mother of 2 lovely girls and live in the countryside in Stoke Row. I studied law at university and went on to become a solicitor in London practicing employment law. It became clear to me after sometime of working in such a stressful, all-consuming environment, that there was barely anything left of the true me.
After much soul searching, plenty of yoga and a move out of London, I decided to re-train as a yoga teacher and set up Felicity Yoga.
Yoga was the cornerstone to my self-rediscovery and to a more content life. It taught me how to breathe, how to bring myself from a state of anxiety to that of calm. Yoga taught me to honour my body, to do things that I love and showed me how to quiet the endless chatter in my mind.
During my pregnancies, I practiced pregnancy yoga and then went on to do mum and baby yoga. Both pregnancy and early motherhood are such vulnerable and precious journeys that I can't think of anything more special than to teach mothers' yoga, to prepare them for birth mentally and physically and to help them stretch and heal post-natally.
Felicity:
07876 453177
felicity@felicityyoga.com
Zoe
Hi, I'm Zoe, I'm a qualified Kundalini Yoga & Meditation Teacher, as taught by Yogi Bhajan.
My journey started whilst working in Fashion and living in Dubai. It was after a horse riding accident and being advised by a doctor that yoga would help recovery. I then reconnected with yoga. Little would I know this would lead to totally changing my life.
After trying different styles of yoga I felt a deeper connection with Kundalini, which changes your perspective and realigns you to your true self, shifting old patterns, anxieties and fears.
This led me back to the UK to start the Kundalini teacher training with The Ik Saran Dhian School which I found transformational and started my journey as a teacher.
I enjoy helping people in my class to reconnect with themselves through the teachings.
I'm also passionate about sound healing and have studied sound healing with Harriet Emily using the gong and crystal singing bowls.
A typical Kundalini class opens with a mantra followed by sets of energetic yoga postures and meditation, finishing with sound healing for deep relaxation.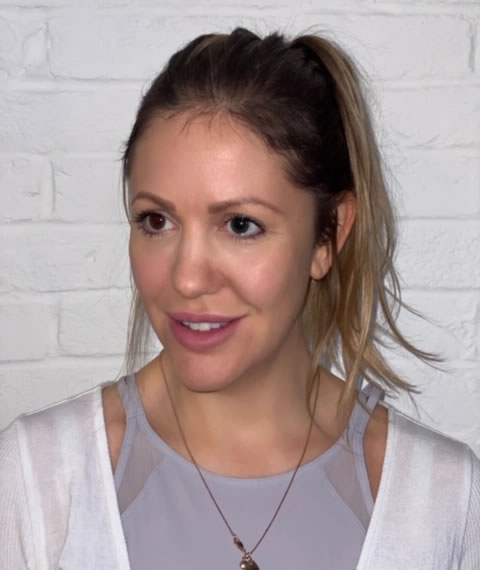 Zoe:
07508 272766
amritasimrankundalini@gmail.com